Source
Finnigan Pleads Guilty in Murder-for-Hire Scheme
Jerome Finnigan, the former cop who was at the center of the disgraceful actions of the now-disbanded Special Operations Section, pleaded guilty to plotting a murder-for-hire of a fellow police officer yesterday. Thanks to a plea deal made public yesterday on that count and a tax charge, Finnigan will serve no more than 13 years in prison.
Finnigan, whose actions while locked up at the Downtown Correction Center have been anything but penitent, described the murder-for-hire plot as a "charade."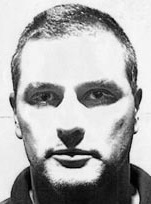 "It was not my intent to kill anybody, but I put myself in a bad situation," Finnigan said in his first public comments since the scandal broke five years ago. "I don't think I would have done it if I was thinking clearly. It was totally out of character for me."
Actually, given his history in the SOS and at the DCC, it seems very in character. Finnigan admitted to taking part in five robberies that netted $600,000 between 2004 and 2005 from alleged drug dealers and others during illegal traffic stops by SOS members. Finnigan's take in the robberies was over $200,000. As another part of the plea deal, prosecutors agreed to drop civil rights charges against Finnigan related to the robberies.
Contact the author of this article or email tips@chicagoist.com with further questions, comments or tips.
---
Ex-police officer pleads guilty in murder-for-hire scheme
BY NATASHA KORECKI AND LARK TURNER Chicago Sun-Times Apr 27, 2011 04:56AM
Former Chicago Police Officer Jerome Finnigan peaded guilty to a murder-for-hire charge and to a tax evasion charge.
He was the ringleader of an "elite" Special Operations Section that ransacked homes without warrants and shook down drug dealers for hundreds of thousands of dollars in cash.
On Tuesday, former Chicago Police Officer Jerome Finnigan, wearing an orange jump suit and shackles, admitted to those crimes as well as to the most outrageous charge — that as an officer, he ordered a hit on another cop.
But as part of his plea deal made public in federal court on Tuesday, Finnigan pleaded guilty only to the murder-for-hire charge and to a tax charge; an agreement where he would see no more than 13 years in prison for his crimes.
Four years after Finnigan's arrest, it remains unclear what federal prosecutors won out of the negotiation.
While Finnigan's plea deal says he cooperated and that he would continue to do so, the 28-page document offers no hints that the investigation would go any higher than it had since his 2007 arrest.
In court on Tuesday, Finnigan, 48, downplayed the murder-for-hire plot, calling it: "for lack of a better word, [a] charade" and said "it was not my intent to kill anybody."
"It was a big mistake. And though it was a mistake, it was unlawful, and I accept full responsibility for that," Finnigan said.
For years, speculation has centered on whether any current or former supervisors would be charged in the case. Civil attorneys stalled their federal lawsuits, awaiting word on whether Finnigan's case would move up the chain or expand to others in the now-disbanded and disgraced Special Operations Section. But to date, that has not happened.
The U.S. Attorney's office had no comment.
However, one source said that prosecutors have told defense attorneys in recent months that ancillary investigations have spun out from the Finnigan investigation. The city, meanwhile, said it had not been in recent contact with federal investigators concerning the Finnigan case.
Finnigan and fellow SOS cop Keith Herrera were charged formally earlier this month, and two other officers in the unit were charged with misdemeanors. Herrera also pleaded guilty, but prosecutors will move for a sentence below 13 years because of his cooperation.
If a judge accepts the deal at sentencing, Finnigan could be sentenced from 10 to 13 years. Former federal prosecutor Lawrence Beaumont said prosecutors could have charged Finnigan with money laundering or racketeering to get a higher sentence. They didn't for a reason, he says.
"Presumably they're rewarding him for his cooperation or they do expect something else to come of it," Beaumont said. "As long as he made a good-faith effort to cooperate, they're going to reward him, even if they don't get anywhere."
Officers in the SOS division are accused of regularly trampling citizens' civil rights, by going into homes without warrants and stealing cash, ripping off drug dealers and splitting the money, and in some cases targeting and shaking down Hispanics who drove pricey cars.
Finnigan is scheduled to be sentenced Aug. 11.
Contributing: Frank Main
---
4 Chicago cops expected to plead guilty
Published: April 8, 2011 at 5:46 PM
CHICAGO, April 8 (UPI) -- Four members of the Chicago Police Department's Special Operations Section have agreed to plea bargains, federal prosecutors say.
Under the agreements, the U.S. attorney's office said two officers, Jerome Finnigan and Keith Herrera, will plead guilty to felony civil rights violations, the Chicago Tribune reported. Two other officers, Stephen DelBosque and Eric J. Olsen, who were in Finnigan's SOS unit, will admit misdemeanor offenses.
State charges against all four will be dropped. Olsen is the only one of the four who remains a Chicago police officer.
When the investigation began five years ago, prosecutors said officers had stolen thousands of dollars from drug dealers and during illegal traffic stops.
Federal prosecutors took over the investigation in 2007, the year Finnigan's unit was disbanded.
Finnigan allegedly netted $200,000 and Herrera $20,000. Del Bosque and Olsen allegedly gave false testimony.
---
Federal prosecutors say 4 Chicago police officers from elite SOS unit will plead guilty
After four-year inquiry, federal prosecutors don't charge any supervisors in police scandal
April 07, 2011
By David Heinzmann and Annie Sweeney, Tribune reporters
A four-year federal investigation aimed at reaching up the chain of command in a massive Chicago police misconduct scandal culminated Thursday pretty much where it began — with charges against the accused rogue cops but no new allegations against their bosses.
When the U.S. Attorney's office took over the Cook County state's attorney's investigation of the elite Special Operations Section in 2007, investigators said they were pursuing evidence of a coverup that may have protected officers who had been repeatedly accused of robberies and false arrests.
But the probe of one of the department's worst misconduct scandals dragged on for more than four years, and when federal civil rights charges and plea deals against the reputed ringleaders were announced Thursday, there were no new allegations of wrongdoing against the officials who had supervised former Officer Jerome Finnigan's SOS team, which was disbanded in 2007.
Law enforcement sources cautioned that tentacles of the investigation could still yield more charges, but the federal charges against Finnigan and Keith Herrera — and new misdemeanor counts against two additional officers who had minor roles in the allegations — signal that the major thrust of the case appears to be winding down. Federal prosecutors declined to comment on the issue.
The U.S. attorney's office said all four officers intend to plead guilty to the charges.
Since the scandal broke five years ago, seven additional officers have pleaded guilty to wrongdoing in Cook County court. Most of them had received reduced sentences in exchange for their cooperation in the ongoing federal probe.
The federal charges against Finnigan, 48, and Herrera, 33, stem largely from the extensive indictments they faced as part of the original case filed by the state's attorney's office, which alleged crimes as early as 2002. As part of the deal worked out with federal prosecutors, those state charges will be dropped.
Also charged Thursday with misdemeanor civil rights charges were Stephen DelBosque, 35, and Eric J. Olsen, 37. Olsen is the only one of the four officers who is still with the department.
The felony charges against Finnigan alleged five instances in 2004 and 2005 in which he and other officers stole hundreds of thousands of dollars in cash after illegally making traffic stops or conducting unlawful searches of alleged drug dealers and other citizens. Herrera allegedly joined him in three of those cases.
In the most lucrative one, Finnigan and other officers made a bogus traffic stop in September 2004, took the person's keys and then stole $450,000 in cash they found during an illegal search of his home, prosecutors said. The officers divided the money among themselves, the charges alleged. Herrera was not alleged to have taken part in that theft.
In another incident in 2005, Finnigan and Herrera allegedly illegally searched a drug dealer's residence and stole $86,000 in cash. Last month a civil lawsuit filed against the officers alleged they had also broken into the home of the downstairs neighbors that night, terrorizing a 13-year-old boy by handcuffing him and questioning him about the neighbors.
Prosecutors charged that Finnigan himself pocketed about $200,000 total from the robberies and thefts while Herrera allegedly netted $40,000. In addition to civil rights conspiracy, both were charged with filing false federal tax returns for not reporting the stolen money.
Finnigan also still faces federal charges — first brought in 2007 — for allegedly plotting to hire a hit man to murder a police officer who he believed was cooperating with investigators in the probe of the robberies. In that case, Herrera wore a wire to secretly record conversations with Finnigan about the plot.
The misdemeanor charges against DelBosque and Olsen accused them of testifying falsely in court about alleged drug busts. DelBosque falsely claimed to have seen a suspect drop a bag containing two bricks of cocaine in November 2005 when in fact the person had no narcotics on him when he was arrested, prosecutors said.
Olsen falsely claimed he saw what appeared to be a plastic bag protruding from a suspect's waistband when he actually had conducted an unlawful search, the charges alleged.
Olsen's 2004 illegal arrest took place during one of the more notorious SOS incidents that happened to be caught on video. Olsen's police report stated that he had encountered the suspect on the street in front of Caballo's bar on the Southwest Side.
However, security video from the bar showed that dozens of SOS officers, including Finnigan and multiple supervisors, raided the bar without a search warrant and made arrests inside. Shortly after the video became public in 2007, the Police Department disbanded the SOS.
dheinzmann@tribune.com
asweeney@tribune.com
---
Civil Rights Charges Brought Up Against Former SOS Officers
2011_3_31_finnigan.jpg
Jerome Finnigan
Even though he's been in jail for nearly four years, it looks as though former Chicago Police Department Special Operations Section officer Jerome Finnigan may finally be sentenced to actual prison sentence. Finnigan and three other officers were indicted on civil rights charges yesterday related to their actions while serving on the SOS. All four are expected to plead guilty.
Finnigan and Keith Hererra were charged with felony counts of violating the civil rights of individuals they stopped at random traffic stops from and later robbed. These are charges brought against the two at the state level that were later dismissed. Misdemeanor civil rights charges were made against Eric Olsen, who is on desk duty with the Police Department, and Stephen DelBosque.
The complaint against Finnigan details five accounts where he and other officers, including Hererra in three cases, stopped individuals and stole $600,000 from them or conducted unlawful drug searches between 2004 and 2005; one of those searches netted Finnigan $450,000.
Finnigan is currently housed at the Downtown Correctional Center, where his behavior has apparently not improved, still waiting to to go to trial for plotting the murder of a fellow officer he beleived was testifying against him.