This is the Libertarian Parties Platform which I copied on April 5, 2011 from this site lp.org/platform
Interesting URL
Nobody uses Chandler Light Rail Bus
According to this article not many people are using the new light rail bus that takes people from South Chandler to the light rail station in Mesa.

That's great. Maybe the idiots at Valley Metro will stop p*ssing our money away on this bus route.
Marijuana doesn't kill pain?
Honest, swear to God that's what Edson F. Allen says in this letter to the editor.
13 years in prison for a BJ!!!!
In this article Susan Brock, the wife of a Maricopa County Supervisor Fulton Brock gets 13 years in prison for having consensual sex with a minor and giving the kid a BJ. Jesus! Don't these government tyrants have any real criminals to hunt down and put in jail??????
Heart attack didn't change anything
The jerk is still a jerk
Click here to see the last dumb thing the jerk did.

The jerk had a heart attack a last Thursday. He would have been dead if a friend had not taken him to the doctor.

Don't get me wrong I didn't except that to change the jerk. He still is a jerk.

I few people who visited him in the hospital said that he was recovering at a very fast rate and because he was quickly becoming the same obnoxious, overbearing bossy person as he was before the heart attack.

The heart attack seems to have cause the jerk to think that I am his slave and he is my master.

Usually I leave when the sun rises. But the on his first day back the jerk ordered me to say home and wait for Dan to come over at noon and help Dan make him a new bed.

Well at least we know that the jerk still considers himself to be the center of the universe and that everybody should bow to him and cater to his every whim.

F*ck the jerk. If he wants his bed he can fix it. I ain't his damn slave!

On his 2nd day back the jerk again ordered me to stay home a couple of hours late and wait for him to get up and when when it is convenient show the jerk how to get his email.

Of course since the jerk is wasting my time he doesn't care how many hours of it he wastes.

Why should he schedule 15 minutes of his time so I can show him how to use his email when it is convenient for me.

Nope the jerk would never do that!

Instead the jerk expect me to waste hours of my time waiting for the jerk to be ready to get his email lesson.

Of course when the jerk gets his email lesson it will be nothing but him screaming and cursing how hard these computers are to work with.

And of course the jerk will blame his computer problems on everybody else, rather then the jerks refusal to learn computers.

The third day back the jerk continued to show that he thinks that he is my master and I am his slave.

I was going to take a shower but the jerk ordered me not to.

You see the jerk was going out for a few minutes and the jerk didn't want to miss any phone calls. And the jerk thought somebody might be bringing him flowers and wanted somebody to answer the door.

Of course that means the jerk thinks I am his slave and expected to answer the phone and door.

More on the jerk!
Guns allowed on Arizona college campuses?
According to this article guns will soon be allowed on Arizona college campuses if Governor Jan Brewer signs this bill.

A little while ago Arizona also made it legal for almost anyone to carry concealed weapons in Arizona with out having to get a stinking concealed carry permit according to this article.
5 years work for a $100K government pension
According to this article 5 years of work at a government job will get you a $100K government pension in the Chicago area. Man, our government rulers sure pay themselves well.
The jerk has another heart attack!
Click here to see the last dumb thing the jerk did.
Don't worry this heart attack didn't threaten the jerks life. It was just another run of the mill heart attacks the jerk routinely has.
I don't know what happened. But I think the jerk was made at Dan for working on his car. I suspect Dan was doing the work for free, but I don't know. I think he had something to do with a car part that needed to be returned.
I guess the jerk could be right this time. But based on his track record he probably won't be.
Ginger the dog was terrified. She was trying to hide in plain sight in the living room. I petted her, and the dogs heart was beating a million beats a minute. At least it seemed that way.
Ginger often comes and hides under my legs when I am working on the computer.
The jerk didn't yell at me last night.
The jerk asked me to look up Autozone on the computer. He wanted to know when they opened.
Of course ever everything I did was wrong. How stupid can I be. If you ask the jerk I don't even know how to use Google.
Of course the jerk blamed ME because Autozone's web pages didn't have the information he wanted.
Then the jerk got mad at me because I was laughing.
I thought it was hilarious. Autozone's web pages don't have what the jerk wants so now he is blaming me? That is hilarious.
The jerk ordered me to stop laughing. I guess he was going to beat me up if I didn't stop.
Of course that makes things even funnier. Hey if I don't stop laughing at the silly things the jerk does I am in big trouble.
And of course he jerk blamed his wife and Dan for all his problems.
I left the place. Even if it is raining and the weather sucks I didn't want to hang around all day and deal with the angry jerk who I suspect will blame me for all his problems.
More on the jerk!
Rain - Saturday, April 9
The weather sucks again. It was raining and cold when I got up. I had to wear my jacket again to keep warm.

It's too bad. Just a couple days ago we had nice weather with the temps in the 90°F to 100°F range.

But I suspect the weather will get better pretty soon. Once April comes it will be pretty soon when the temps start hitting 100°F+ a regular basis.
Source

Phoenix-area rain to taper off; events canceled

by D.S. Woodfill - Apr. 9, 2011 11:50 AM

The Arizona Republic

The gray skies and nip in the air will linger, but the rain blanketing the Valley is expected to taper off by Saturday afternoon, weather experts said. Several community events across the area have been canceled.

Heavy snow is predicted for higher elevations across Arizona, with some regions possibly receiving up to 12 inches.

Today's rain in the Valley may stop around 1 p.m., weather service officials report.

Forecasters also predict a high of 59 degrees. That's close to a record set in 1966 when temperatures hit 58 degrees aid Keith Kincaid, a meteorological technician at the weather service's Phoenix office.

He said spring storms are not that unusual this time of year, "but temperature-wise, that's actually the biggest story because we're normally around 80 degrees."

Sky Harbor International Airport saw .22 inches of rain, he said.

Other parts of the Valley, such as McDowell and Hawes roads in Mesa and Queen Creek and Rittenhouse roads in Queen Creek got over half an inch, according to the Maricopa County Flood Control District. "It was pretty uniform generally -- around a quarter of an inch so far," Kincaid said.

The rain didn't cause any road closures or major incidents, according to the Arizona Department of Public Safety officials.

It did put a damper on plans for some residents, however.

Surprise was forced to cancel its annual green fair and swap meet Saturday due to the weather. The fair at Surprise Stadium was titled "Be Green & Be Healthy" and was to feature vendors with information and products. There were no plans to reschedule the events.

Plans for other major events in the Valley, such as the Great Arizona Picnic, were going forward. The event, part of the 33rd Annual Scottsdale Culinary Festival, was scheduled to start at noon and end at 9 p.m. at the Scottsdale Civic Center Mall at 7380 E. Second Street.

"No need to build an ark or get out galoshes," a news release from event planners said. They recommended participants to dress warm.

Tickets that aren't used Saturday will be honored Sunday, they said.

The Global Village Festival, a popular annual event in Gilbert, was canceled Saturday due to pooling of water and weather-related concerns, said Beth Lucas, a public information officer for Gilbert.

"It was just a safety precaution'' because of the electrical lines that are needed for the event, Lucas said. The free event would have featured food booths, an international group of entertainers and a parade of nations, with children representing various countries.

Lucas said there are no plans to reschedule the event.

Up north, snow and ice on Saturday prompted the closure of northbound Interstate 17 between State Route 179 and Flagstaff.

"Additional information was that crews are clearing snow from both I-17 and I-40 in the Flagstaff region," Arizona Department of Transportation spokesman Doug Nintzel said in an email.

Officials were warning motorists to delay travel until conditions improve.

Around Arizona, the National Weather Service reports that a winter weather advisory is in effect until 5 a.m. Sunday for the White Mountains of Graham and Greenlee counties and the Catalina, Rincon, Galiuro and Pinaleno mountains.

Snow levels can be found at 4500 to 5000 feet today, dropping down to 4000 to 4500 feet Sunday morning. Today, snowfall could reach up to 12 inches in northern parts of the state above 7000 feet.

Republic reporter Connie Cone Sexton contributed to this article.
Thieves at Arizona Department of Revenue
According to this article they have come up with a new plan that will allow them to steal about $6 million a year by assuming people don't deserve an income tax refund unless they can prove they deserve the income tax refund.

Of course one key part of the plan the crooks at ADOR invented is they currently don't have any method for people to prove their innocence, so they can kiss that tax refund goodby.
Eniac programmer Jean Bartik dies
According to this article Eniac computer programmer Jean Bartik died. The good old Eniac was one of the first, or perhaps the FIRST computer in the world. It was used during WWII by the military to calculate trajectories for artillery shells and other such military purposes.
You cell phone will tell the cops where you are
I don't have any love for real criminals who commit real crimes. You know people like robbers, rapists and muggers. They are scum and deserve to go to jail.

But sadly in the good old USA, two thirds of the people in American prisons are there for victimless drug war crimes.

So if you are a "drug war" criminal I want to tell you that everytime you turn on your cell phone the police can and will use it to locate you as they do in this article.
$100K pension for 5 years work?
According to this article retired government nanny Bill Maio gets a $100,000 a year pension for 5 lousy years of government work. Damn where are those French people when we need them.
Commodore 64 - Again?
According to this article you can get a fake Commodore 64 computer that runs Linux on a dual-core Intel Atom 1.8GHz processor for a measly $895. Of course if you really want to punish yourself you can load Windows 7 on the machine.
Sheriff Paul Babeu is a liar?
According to this article Pinal County Sheriff Paul Babeu is a liar? Hey I guess you have to say something to get reelected.
No more "Hot Pink" Terrorist alerts?
I like the old 5 level colored terrorist alert system better. When ever it hits "terrorist pink" I hide under my bed until it drops down to "almost no terrorists lime green". Pretty easy and best of all I don't have to think.

I am kind of sad because according to this article we are no longer going to have these silly color coded alerts.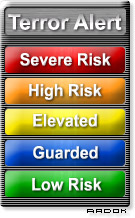 All you need is 8.6 pounds of plutonium
Hmmm .... according to this article all you need is 8.6 pounds of plutonium to make a nuclear bomb.
Monday, April 11 - Froze my butt off
Man summer just came a few days ago and we had our first 100°F+ temps. But today I froze my butt off. In the morning I was wearing a jacket and sweater and I was still freezing cold.

The good news was by the afternoon it was warm again.

Hopefully the freezing cold weather won't hang around for long. It's time for summer to be here!
Wrong place, wrong time, you are guilty of murder
From this article it sure sounds like the cops will do anything to get credit for solving murder cases. That usually involves charging the last person that was seen with or involved with the murder victim with the crime of murder. And of course they never have any real evidence other then circumstantial evidence. In this article there isn't even a dead body, but the cops are still charging some poor sucker with the murder.
Government is at war with us civilians
In this article the Feds are pressuring local cops to wear body armor. If you ask me it sure sounds like the government thinks they are at war with us civilians.
Arizona Department of Revenue robs Mexicans?
In this article it sounds like the folks at the Arizona Department of Revenue or Arizona DOR as the government tyrants call it have found a way to steal $6 million a year from Mexicans and other low income workers.

There scheme required people to prove the money is theirs. Of course the crooks at DOR intentionally don't have a method to allow these people to prove the money is theirs, which means Arizona DOR gets to steal ALL their money.

And you have probably heard the line the government is here to protect your rights. Yea Sure! Government isn't going to protect your rights any more then the mafia is going to protect your rights.
IRS requires permission to help folks file taxes
In this article the thieves at the IRS are going to require that you get permission from them before you can help folks fill out their tax forms.

I suspect the crooks at the IRS will only approve people who will help the IRS steal the maximum amount of loot possible from the serfs they rule over.
Maple syrup the hot new superfood?
Let's take a break from talking about government crooks. In this article they claim maple syrup is a new super food. I am not a maple syrup fan, but I bet if you mixed it with a bunch of chili peppers it would taste damn good on your pancakes or tacos. Mmmm.... maple syrup tacos.
American spy police state!
Let's face it America has turned into a police state. Every where you go you have a cop with a camera spying on you. In this article they talk about the hundreds of police spy cameras in New York City that constantly real car license plates looking for people to arrest. Heil Hitler the police state is here!
Sheriff Joe cooks the Maricopa County books
Let's say you work for a large international company and you have screwed the stockholders that you work for out of say $32 to $90 million bucks. What do you do? Cook the books.

Of course if you do that you will go to jail.

OK let's say you work for the 2nd largest county jail system in the USA and you have screwed the taxpayers out of say $32 to $90 million bucks. What do you do?

According to this article Sheriff Joe and his goons have been cooking the jail's books.

Of course when you or I cook the books we go to jail.

What happens when Sheriff Joe cooks the books? Nothing! OK, come back in a few years and I will bet nothing has happened.
Dead chilli habenero plant?
I was p*ssed! I checked out my chilli habenero plant and it appeared to be dead. The whole thing was wilted and laying on the ground.

Dan and Marie both told me to give it some water and it would spring back to life.

I was quite surprised. I watered the puppy yesterday and when I check it out today the plant had sprung back to life as if nothing happened.

Bottom line, just because your plant looks wilted and dead doesn't mean it is wilted and dead!
Medical marijuana convention
April 14, 2011 - I went to the Green Relief Medical Marijuana Convention which was in Glendale at the Arizona Cardinals stadium. It was pretty fun.

They describe the convention as
a medical conference focusing on the legality, clinical applications and effective delivery methods of Medical Marijuana.
I believe the convention was timed to start on the first day of medical marijuana being legal in Arizona.

My only gripe was the convention seemed to be grossly over prized. It cost $25 to get in for a single day. Way too much for an unemployed person like me.

I agreed to do some worked there and they let me in for free because of that.

That jerk David Dorn will probably claim that I went there to hunt down people and turn them into the government. F*ck David Dorn!

And of course while we are talking about medical marijuana here are a few articles on the subject of it.
Convention Pricing
3-day Event Pass All Workshops & Exhibit Hall
$124.00
2-Day pass All Workshops & Exhibit Hall
$99.00
Single Day Pass Workshops & Exhibit Hall
$75.00
Job Fair & General Admission April 16, 2011
$49.95
Medical Marijuana Card Evaluation Appointment & General Admission
$225.00
2 FOR $25 General Admission 1-DAY ONLY (Exhibit Hall 4/15 OR 16 ONLY)
$25.00
ASU Medical Clinics
This article says you can get low cost medical services at the nurses clinics at ASU, or Arizona State University.

Right now there are four of them and they are at:

NP Healthcare

Downtown Phoenix

College of Nursing & Health Innovation

500 N. Third St., Suite 155.

3rd Street & Fillmore

Hours: 8 a.m.-5 p.m. Monday-Friday; closed 1-2 p.m.
Information: 602-496-0721.
---
NP Healthcare-North Tempe
1555 N. Bridalwreath
Between Miller Road & Scottsdale Road,
and between McKellips & Weber Drive
Hours: 8 a.m.-5 p.m. Monday-Thursday; closed 1-2 p.m.
Information: 480-858-6527.
---
NP Healthcare-Grace
Grace Lutheran Church
1124 N. Third St., Suite 1, Phoenix.
3rd Street, just north of Roosevelt
Hours: 8 a.m.-5 p.m. Monday-Friday; closed 1-2 p.m.
Information: 602-523-9275.
---
NP Healthcare-Scottsdale
3225 N. Civic Center Plaza, Suite 10.
between Osborn & Earl,
and between Scottsdale Road & Miller
Hours: 8 a.m.-5 p.m. Monday-Friday; closed 1-2 p.m.
Information: 480-884-1717
Sure it's not very Libertarian, but I am homeless and unemployed and need somewhere to get a prescription for the drugs I need.
Of course if the government tyrants had not stolen all my homes and bank accounts I could easily afford my medical care.